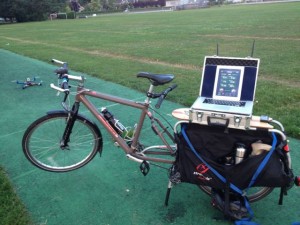 We are so close to the first lanch of MAVPILOT. I've been getting up early to do testing in the relative pace of the weekend mornings. As a way to get some exercise and so not to be just standing in a field for a couple of hours, I ride loaded. (I can also fit both kids on the back for those trips to the beach!)
MAVPilot is coming along great. Yesterday, I was testing some new features. One being audio alerts for when using using the fence as a safety feature. Now when you exceed the fence boundary you will get a warning as the craft engages Return to Launch or Land, depending on how you have set it. More info here and here on the ArduPilot.com site. The next feature for fence will be to outline the boundary on the map.
But before that we need to get v1.0 out.
(PS: if you have any killer features you must have, drop me a comment, or emaila. I'm always happy to receive feedback, thx)